The Prisoner Correspondence Project is a solidarity project for gay, lesbian, transsexual, transgender, gendervariant, two-spirit, intersex, bisexual and queer prisoners in Canada and the United States, linking them with people a part of these same communities outside of prison.
PENPAL PROGRAM
We are always looking for non-incarcerated people to get involved as penpals. It only takes a few moments.
Get a penpal today
RESOURCE LIBRARY
We operate a resource library of harm-reduction materials, prisoner writing, smut, that you can send inside to your penpal.
BROWSE LIBRARY
VOLUNTEER
Volunteer Sessions
Every week we get 100+ letters at our central office and need help reading, sorting, and responding to each one. We hold regular volunteer sessions:

DROP-IN HOURS
Every Tuesday and Thursday
15h00 - 20h00

If you can't make these times, get in touch to schedule another time.
FUNDRAISING
The price of mail keeps going up, so we rely on a network of grassroots supporters to enable our work.
DONATE NOW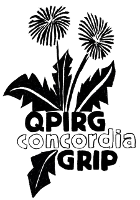 The Prisoner Correspondence Project is a proud working group of QPIRG Concordia and QPIRG McGill. We are endlessly grateful and appreciative for the support they provide us.